Stop Letting Sales Slip Through Through The Cracks Because You're Too Busy
Whether you're a one man band or a company with a team of marketing and/or sales staff, you don't have to rely on a to-do list to make sure promotions are sent out, leads are followed up, or even the sending of a simple "Happy Birthday" message happens.

FocalContact brings together all of the functions you've previously had to manage through multiple platforms – one place to capture leads, communicate across multiple channels and track everything up to and after the sale. No longer will you have a disconnect between marketing and sales – for every sale you have a complete record right back to when they first became a lead.
Automate Your Marketing And Sales Communication, And Receive A Prompt When It Needs The Human Touch​
Our intuitive flow builder has a multitude of triggers and actions to use – build a flow to educate, inform and prompt people to book an appointment, to send confirmations and reminders about an appointment, or prompt you to reach out via a phone call.
Our automation flow builder is there to take over the important and mundane to make sure your marketing and sales processes are firing on all cylinders.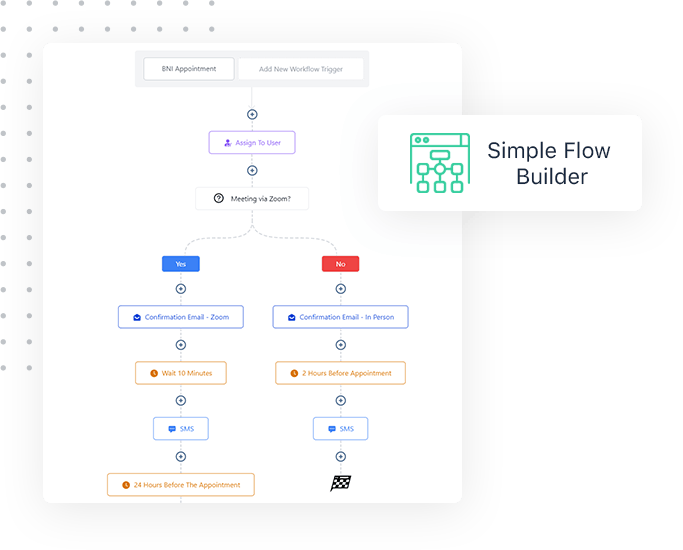 Automate Your Marketing With a Simple Flow Builder
You don't need to be a software engineer to use the FocalContact automation platform. The flow builder has easy click-to-add functions so you can set up simple automated workflows in minutes. With FocalContact you will be creating automated email and text followups, lead nurture, Facebook Custom Audience updates
Automate Appointment Booking, Confirmation & Followup
Automate Facebook Lead Ads to Appointments
Email Nurture Sequences
Automate Feedback & Google Review Requests
Automate Appointment Booking, Confirmation & Followup
Automate Facebook Lead Ads to Appointments
Email Nurture Sequences
Automate Feedback & Google Review Requests
Find Out How FocalContact Can Improve Efficiency In Your Business To Close More Sales​
Automation is not about removing the human element, it's about automating the tedious, and the "busy", at scale so you can be there at the points that count. See how FocalContact can reduce the chances of sales falling through the cracks