Use Automation to Remove Roadblocks That Are Costing You
Stop letting sales fall through the cracks because you didn't get around to doing something… With all of FocalContact's features in one platform you can go beyond marketing automation to business process automation
Stop the "Busy" - Automate Manual & Repetitive Tasks
We all know that time is money in all areas of business and sales – free up your time and make sure important "get around to" tasks are done with automation
Automate Your Marketing With a Simple Workflow Builder
You don't need to be a software engineer to use the FocalContact automation platform. The flow builder has easy click-to-add functions so you can set up simple automated workflows in minutes.
With FocalContact you will be creating automated email and text followups, lead nurture, Facebook Custom Audience updates, and a whole lot of automations to make day-to-day business easier.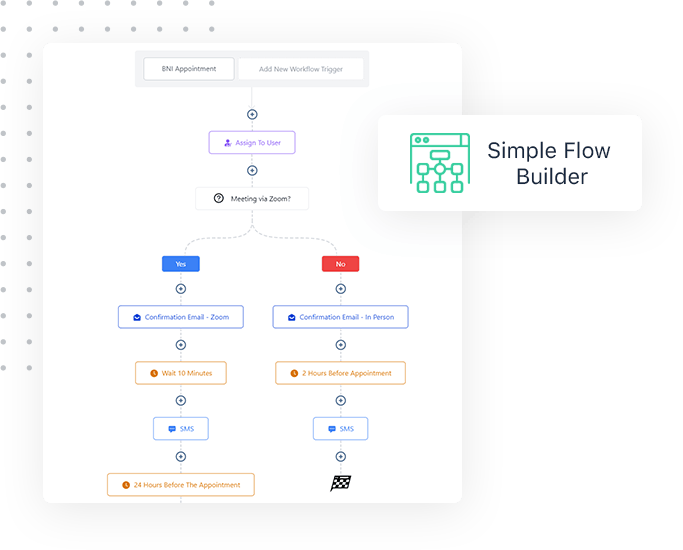 Ready-To-Go Automations Included
Get quick wins with automations that are already set up. Just customise and publish, and you've got permanently taken jobs off your to-do list
Auto-Replies To Inbound Messages
Use our auto-reply automation to reply to frequently asked questions and suggest your latest offers.
Trainable AI bot coming soon.
Improve your visibility in local search results with more positive reviews. Our Google review request automation is an easy way to send more requests for reviews o your customers.
Appointment Scheduling & Reminders
Get people booking time in your calendar on autopilot with our calendar booking widgets, and this automation will send confirmation and reminders to make sure people turn up
Under 5 Minute Lead Followup
Studies show the chances of converting a lead decrease dramatically after 5 minutes. Our Fast 5 recipes get things happening as soon as a lead is received.
Nurture & List Reactivation
Got people frequently joining your list? Put in place a sequence of emails and SMS that helps them get to know you, and expecting your emails.
Got people on your list that have been inactive? Use a database reactivation
Under 5 Minute Lead Followup
Lumi seamlessly connects to your online store and other tools—with just a few clicks. From then on, your customer data is always on hand, updated in real time.
Learn more
Triggers & Actions For All Sorts Of Automations
If there is something repetitive related to your contacts and leads happening in your business, then there's a good chance you can automate it (or at least parts of it).
Just map out your customer touchpoints and look for a trigger and action to match.
Still need the human component? Just automate task creation, notifications and call prompts as part of your workflow automation
No matter what the time, there will always be someone to assist. It starts with a free onboarding call to help you get started, and then we back it up with help doc's, live chat and even video calls with support.
avg. response time on live chat
FocalContact Gives You Everything You Need To Build & Promote Your Brand Online​
Consolidate your marketing toolset – with everything in one place it's simpler, quicker and saves money