Websites For Service-Based Businesses On A Budget
High impact websites done-for-you in as little as a week
With websites starting from $1497 plus GST, we make getting a new website simpler. With over 250 starter sites across multiple industries ready to customise to your brand, you'll have a website you love in next to no time.
Most people expect any credible business has a website.... Let's start exceeding expectations!
Getting a custom website requires an investment of time and money, but a lot of businesses are lacking one or both of these, so our semi-custom websites are the answer.
We've done the work to pre-build out over 250 starter sites – they look great and work on desktop, tablet and mobile. All you need to do is select one from our demo's, complete some details about your business and we'll customise it to your business – your logo, your brand colours, industry specific content, and images to match.
Our process is transparent, simple and quick!
…so you can have a website that looks great and has a massive positive impact on your business
Our approach is all about making a new website more affordable and simpler for you
WHAT HAPPENS WHEN YOU ENGAGE US TO BUILD YOUR WEBSITE
Get a beautiful website without blowing your budget
While we do also offer custom design websites, we recognise that some businesses need a lower budget option, don't have the time to participate in the custom design process, or just need a simple brochure website to appear credible because all their business comes from offline sources. Our semi-custom websites let you keep more money in your business, or to spend on marketing.
Choose Your Style
Go through our demo's - even view them on desktop, tablet and mobile. Just imagine it with your logo, brand colours and content.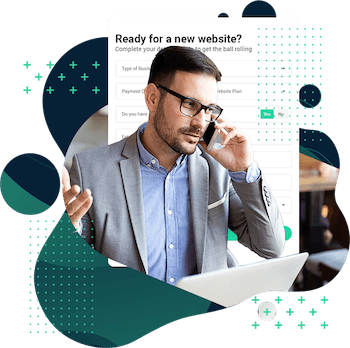 Provide Business Details
Complete a form with details about your business, and the website plan you want. We'll arrange a call for anything that is not clear.
We Build Your Website
We put everything together to create a website that is on brand, looks great and geared up to convert more visitors into enquiries and sales
Find A Website Style That Will Work For You
Browse by category and preview full website demo's to find a "feel" that will work for you. We will customise it to your brand, and edit to fit your content and message.
Note: We can shortlist suitable options for you.
If viewing this on your phone, we suggest completing your details in the form at the bottom of this page (completion of the form does not require payment). We will send a link to this page so you can view our starter site demo's on your desktop computer, making it easier to view the desktop, tablet and mobile previews.
Here's what you get with your high-performance website as standard inclusions
A stunning, high-performing, industry-specific website
We have over 250 starter sites to choose from across different industries. Check out our full demo's to see how they look, how they work, and how they look on different devices
Built with WordPress so no lock in
Your website will be built with WordPress using the Elementor page builder. That means you can:
1. Customise, add to, and edit as required.
2. Engage us on an ongoing basis to manage your website, do it yourself, or engage another website professional.
Set up, ready for content
Copy, move and delete sections as required with a visual page builder. Choose Starter Silver if you want to do the content and we'll add it for you, or with Starter Gold we'll write the content and put the website together for you using images you provide and/or stock images.
Starter Site Customisation
We customise your chosen style to your business and brand – your logo, your brand, and your content
Included Pages
We set up four essential pages for your website – Home, Services, About, and Contact
Add Unlimited Pages
There is no limit on the number of pages you can add. We include all the demo pages from our starter site demo for you to duplicate and copy from.
Blogging Ready
Comes with blogging ready to be enabled matched to your branding colours. Instructions are provided for how to start blogging, and add a blog link into your site's menu
Mobile friendly
Check out any of our starter sites on desktop, tablet and mobile to see they are all built to work across multiple devices.
Search engine friendly
The premium WordPress plugin for SEO "Rankmath Pro" is installed to give you the best of onsite SEO features.
Social Sharing Friendly
With RankMath Pro you can optimise what gets displayed when any of your website links are shared via social media
Premium plugins (approx. value $300/yr)
We include Elementor Pro, Rankmath Pro, WP Rocket and Gravity Forms for the first year. License included after the first year with a care plan, or purchase your own license.
Royalty free stock images
If you don't have your own images to use we will source images from our own stock library subscriptions
FREE Website Care Plan for The First 3 Months(valued at $225 plus GST)
Includes everything to keep you online and maximise your website's security
Fast Google Cloud hosting valued at $25 per month with SSL certificate included
Weekly WordPress & plugin updates
Daily offsite backups
Integration of content delivery network to improve page loading speed
Ongoing license of premium plugins worth $300/yr
Our Semi-Custom Website Packages
Check out our simple pricing structure. Start the conversation here to talk about any other marketing requirements.
or $250 plus 4 monthly payments of $330 (plus GST)*
Comes with all of the standard inclusions listed above
or $250 plus 4 monthly payments of $460 (plus GST)*
Designer/Developer Assistance
In the next two weeks after "Bronze" level delivery of your website, get up to 5 hours of assistance for further changes (including adding extra pages) - this is a significant discount from our normal hourly rate.
or $250 plus 4 monthly payments of $590 (plus GST)*
SEO Copywriting
This is an upgrade to the bronze package's content to create content written just for your business that is both search engine friendly and get enquiries
Designer/Developer Assistance
In the next two weeks after "Bronze" level delivery of your website, get up to 5 hours of assistance for further changes (including adding extra pages) - this is a significant discount from our normal hourly rate.
*Subject to finance approval through BizPay
Frequently Asked Questions​
Complete your details below to get the ball rolling

(you will not be invoiced until we have all details to to get started on your site)