Websites & Content For Accountants
Get a unique website and ongoing content for your accountancy firm
....all done for you!
With as little as 1 hour of your input, outsource everything so you can focus on clients. We save you time, money, and billable hours.
Whether you just want a website, or you want marketing services and tools, as well...we've got you covered
We know what it's like to be so caught up with working on clients that you often just don't have time to work on your own business. So instead of feeling guilty about those things that have been on your to-do-list for the last year or two, we can take the online tasks off your plate.
With FocalContact website and content marketing services for accountants:
Our approach is all about making it easier for you to focus on delivering a great service to clients (and more billable hours)
WHAT HAPPENS WHEN YOU ENGAGE US TO BUILD YOUR WEBSITE
Here's How We Make Getting Your New Website Easy
We've built and seen enough websites to understand the majority now contain very similar elements, so instead of pushing our custom design websites, we've pre-built our starter site demo's with all of the building blocks so we can mix and match, and customise to your brand. This makes our website builds fast, your need for time on input minimal and the whole process more cost-effective for you.
Choose Your Style
We shortlist 5 of our website starter demo's for you to choose from (or look through them all). Just imagine them with your logo, brand colours and content.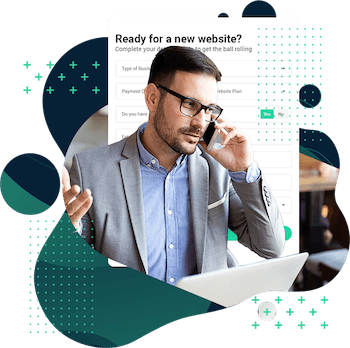 Content Preparation
Provide your basic business details, and we will do a short interview from a list of questions to identify what points of difference to highlight to differentiate you from other accountants
We Build Your Website
We write your content and put everything together to create a website that is on brand, looks great and geared up to convert more visitors into enquiries and sales
See why semi-custom is the way to get a great website faster and without headache
Browse and preview our full website demo's to find a "feel" that will work for you. We will customise it to your brand, and edit to fit your content and message.
Note: We can shortlist suitable options for you.
If viewing this on your phone, we suggest completing your details in the form at the bottom of this page (completion of the form does not require payment). We will send a link to this page so you can view our starter site demo's on your desktop computer, making it easier to view the desktop, tablet and mobile previews.
Ongoing Content & Social Media Done For You
The majority of accountants are way too busy on client work to be blogging and producing content to keep their social media accounts active, but an active online presence in a lot of industries is considered a reflection of how well the business is doing.
We have the option of custom content that is produced for your business only, or in our base package we produce shared content for multiple accountants. Here's how we do it:
1. We produce blog articles weekly and source appropriate images.
2. We post the blog articles to your blog.
3. If you want us to post to your social media accounts, we share your blog post and 2 other posts per week.
Optional Upgrade - Save $97 Per Month
Get FocalContact For $100/month
With a website you already have access to FocalContact's site builder. Unlock our full marketing and sales automation platform to put your marketing and lead nurture on autopilot
The All-In-One Solution That Makes It Easier To Book Sales Appointments on Autopilot
With FocalContact, you have one place to put together a complete marketing system that attracts and pre-qualifies leads, filtering out the tyre-kickers, and getting your ideal clients booked into your calendar on autopilot
FocalContact Is The Hub Of Your Marketing & Sales
Making It Easier To Turn Traffic Into Leads, Appointments & Sales
Everything in one place means you have all the tools to do everything you need, and with our API we can integrate with your existing practice management software/CRM if required. With everything working together you can run powerful automations to put marketing and sales processes on autopilot
Website & Funnel Builder
A drag-and-drop page builder with a growing library of templates, with with integrated blogging about to be launched
Marketing & Sales Automation
Map your communication and processes and automated it. Use automation to engage, nurture, book appointments and make sales, on autopilot or with prompts for human interaction when it matters
Lead Capture & Universal Inbox
Capture leads from multiple sources and keep communication in one universal inbox that connects with leads wherever they are – email, phone, SMS, web chat, Messenger, Instagram DM
CRM & Opportunities Pipeline
A complete view of all of your contacts and sales opportunities. Manage your pipeline – monitor manually for bottlenecks, or automate prompts to keep people moving through your marketing and sales processes
Multichannel Communication
Whether it's one-off, a campaign, or automated confirmations and followups, you can do it all in one place. Make phone calls, send email and text, and send messages via Messenger, Instagram DM and Google My Business Messages. With a universal inbox you'll have a full history of every conversation
Scheduling & Appointments
Integrates with your Google and Office365 calendars to book appointments without all of the back-and-forth. Use our booking widgets that can be embedded anywhere, or our AI appointment booking bot via text
Reputation & Review Management
Easily request and manage online reviews. Start proactively seeking and managing reviews so more people see the 5-star work you do for your customers. More reviews means more visibility!
Social Planner
Prepare your social content in advance and scheule and post it on autopilot to Facebook, Instagram, Linkedin and Google Business Profiles. More social networks coming.
Course Builder
Have great content you want people to opt in for to build your database, want to sell access to your content, or even want to put together some client onboarding material? Creating membership courses is easy with FocalContact
*Includes embed options for integration into third party websites, and direct integration with WordPress, Stripe and Paypal, as well as an API for advanced integration development.
Our Website & Content Marketing Packages
Check out our simple pricing structure. Start the conversation here to talk about any other marketing requirements.
$1497 one-time
& $197/month
Ongoing Support
We do all of the website maintenance - you have no plugins or software to update. Need content changed on any of your pages, then just let us know what to change.
Website Refresh Every 24 Months
We'll review your website for any optimisations that might be performed or you can choose an updated style for a completely different look (minimum commitment is 12 months, a refresh resets the minimum 12 month commitment).
Beautiful design with great user experience
Looks great with content flow optimised for the user experince
Up to 6 pages included
Your new website will include home, about, contact and up to 3 other pages. Let us know if you want us to add more.
Content written for you
We write the content for you making it easier to get your new site up
Add unlimited pages
Add as many extra pages as you want yourself, or talk to us if you want an extended done-for-you service.
Blogging Ready
Add blog posts when you want to provide visitors engaging and valuable content
Mobile Friendly
We make sure your website looks great on mobile
Search Engine Friendly
Add optimised tiles and descriptions for search engines
Royalty Free Stock Images
If you don't have your own images to use we will source images from our own stock library subscriptions
$1497 one-time
& $297/month
Everything in the "Website Only" plan plus
Blogs done for you
Every week a blog post will be published to your site to keep your site looking active with content you can share
Suitable images added to blog posts
We find royalty free images to go with your blog posts
Search engine optimised
We make sure appropriate title tags and descriptions are added
*For unique, custom blog articles we can discuss your requirements on your call.
$1497 one-time
& $447/month
Everything in the "Website & Blogs" plan plus
Social content production
We share content appropriate to an accountant's audience and align it to your visual brand.
Posting 3 times per week
We post 3 times per week on Monday, Wednesday and Friday, including a share of that week's blog post.
Posting to LinkedIn, Facebook, Instagram and your Google Business Profile
We post to your business' social media profiles. We are working on the posting function for Twitter in FocalContact's social planner and posting to Twitter will be added when available.
*For unique, custom blog articles and social media content we can discuss your requirements on your call.
*Minimum commitment is 12 months on website subscription. If choosing one of the content marketing options there is no minimum commitment, and you can revert to the normal website subscription at any time.
Frequently Asked Questions​
Complete your details below to get the ball rolling

(you will not be invoiced until we have all details to to get started on your site)